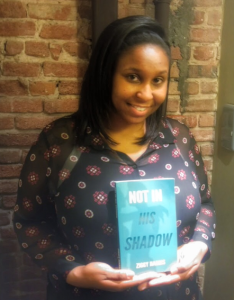 Today an author and community outreach counselor, Nzinga Mpenda explains the impact of Alive & Free on her education and career path.
How did you first come to Alive & Free?
In 2001, during my freshman year of high school, the mother of one of my friends told us, "You need to go. It's a great place." We went on a First Tuesday. We were late, and the room was really crowded, so I didn't go in. I'm an introvert. I went again the next week. And after that, unless I had a basketball game, every Tuesday I was there. After that too, unless I was out of state for school. I'm still there as many Tuesdays as possible. I go to the family meeting.
What drew you in?
It's an inspiring place. For me to have seen at an early age successful African Americans— growing up in Bay View, we don't have that. I mean, my primary care physician, my dentist, they were all African American. But outside of that, there were no images of successful black people. So Alive & Free brought that to life for me. Also to see every summer people come back from college— that was really it for me.
You graduated from Shaw University in Raleigh, NC, in 2008. Did you get Alive & Free scholarship money?
I did. It's definitely a blessing when you can go to school and not have to worry about where the money is going to come from. Now I have my master's in clinical psychology, and I'm going for my doctorate in educational and organizational leadership at Saint Mary's College of California. My goal in about 20 years is start up my own nonprofit organization similar to Alive & Free in philosophy, with a focus on youth in urban areas that have been cast aside or that the mainstream doesn't really want to deal with.
Not In His Shadow
The writing for Not in His Shadow began in 2009 as a conceptual piece for de-mystifying fairytales and how they impact the lives of girls. It wasn't too much longer when a different story began to emerge, so I elected to shelve the fairytale project. The result is a whole new book about love and loyalty between high school sweethearts.
I worked on Not in His Shadow for four years. I did not have the luxury of writing as often as I wanted to because of my academic endeavors.  In that time, I asked a few friends and family members to read it.  The feedback was positive; however, I knew that wasn't enough. I knew the population I was writing for and wanted to ensure the spirit I was releasing Not in His Shadow with would be the same one that readers received.  In 2015, the e-version of the book was released and in 2016, the print version followed.
I have received a wealth of support and friends and family tell me the book is good. In fact, they are waiting for more!  I have heard and received it all, and I thank them tremendously.  My goal is to reach people and inspire them.
So, what am I up to now? I am taking the passenger seat as God navigates me to His desired destination. I am working on more projects.  My next novel, Don't Tempt Me is slated for a fall/winter release. I am creating content for my website, theziggyzone.com- my professional sports entertainment and education company.  And, most importantly, I am preparing for the unimaginable!