Street Soldiers: The Book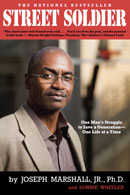 Critical Acclaim:
"As much as the Million Man March was an impressive vision of the power of many, Joe Marshall serves as an inspiring reminder of the power of one. Every black man in America should read this book, and then do something."
-Spike Lee
"Joe Marshall's Street Soldier is a revelation."
-Denzel Washington
"The stories here will wrench your soul and Joe Marshall's life will warm your heart. You'll cry from the pain, and the promise, in the book."
-Marian Wright Edelman
"Street Soldier is the cookbook for peace in this country, and Joe Marshall is the man with the recipe. Black, or white, young or old, this is the food we've all been craving."
-Sinbad
"I'm glad Joe Marshall is man enough not only to write about his mission to empower young Africa-American males, but strong enough to save them."
-Terry McMillan
"Street Soldier is a riveting story of the enormous difference that caring adults are making in the lives of the inner-city youngsters. It provides clues for rescuing them from poverty, prison or worse. It's high time policy makers and the public catch on by reading Joe Marshall's engrossing story."
-Hugh B. Price
"This black man's struggle is a human struggle. A must read for men and women around the globe."
-John Singleton
Street Soldiers: The Documentary
A moving, stereotype-smashing documentary about three African American juvenile offenders struggling to turn their lives around with help from the tough but tender Omega Boys Club of San Francisco, an organization that demonstrates what can be done in a violent community when somebody cares. Producer/Director: Avon Kirkland. An ITVS presentation produced by New Images Productions, Inc. with funds provided by the Corporation for Public Broadcasting.
Street Soldiers® chronicles the relentless efforts of the Omega Boys Club to save American's most endangered – young African American men. Believing that social diseases, like viral and bacteria diseases, are contagious, Omega is committed to helping eradicate a condition diagnosed by Omega Director Joe Marshall as "Hood Disease," before it becomes full – blown "A.I.D.S." – (Addicted to Incarceration and Death Syndrome.) "If you work with us, we will help you get out of jail and into college. Everybody else runs a program. We run a family."
Narrated by Danny Glover.
Premiered nationwide on PBS in January / February 1997.
Order Street Soldiers: The Book for just $14.95.
Order Street Soldiers: The Documentary for just $24.95
$5.60 Shipping & Handling for each item.
To order please fill out the form below and select your payment option. To order by phone please call 1-800-Soldier.
Thank you for your support!