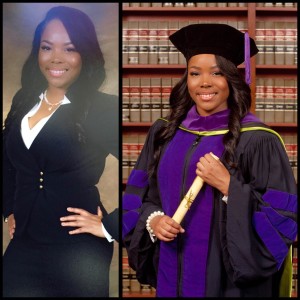 Taking the Lead
Florida Agricultural and Mechanical University, College of Law.
I was born and raised in one of the toughest cities in California, Richmond. I knew early in life that I wanted more than what I saw growing up. I am a first generation college graduate and I will be the first attorney in my family once I pass the July 2015 bar examination.
I came to the Omega Boys Club broken. My story was different than most of the students in the College Prep class because I had already obtained my Bachelor's degree. Dr. Marshall and Ms. Estell told me up front that I would not be able to receive a scholarship for that very reason, but I didn't care about the scholarship.
I continued to come to Omega and participate because I loved the Alive & Free Prescription. I had recently ended an abusive relationship. I had no self-love and let my circumstances dictate my behavior. I needed guidance and a safe environment to discuss things I had held inside for so many years. The Omega Boys Club allowed me to open up and find myself. This was extremely beneficial given the fact that I was going to be going to law school soon and needed to have a clear mind to excel.
The last meeting I attended before I boarded the plane to Orlando, Florida, Ms. Estell told me to be exceptional. Those words have echoed in my head throughout my law school career. I took Ms. Estell's advice and did just that! For starters, I am a number 3 out of 105 people in my class, I am on law review, I tutor new law students and I will be graduating with honors May 9, 2015.
I am so thankful for my Omega family and all of the support they have given me over the past three  years. I am forever grateful and proud to say I have remained Alive & Free!
God Bless,
Ms. Te'Reisha N. Graves